Meeting Street
Due: Monday, 06/29/15 9:59am pst
mp3 with artist name sent to
fightmaster@songfight.org
(
tips
)
It's Not Over
Venerable fighter
Ken's Super Duper Band 'n Stuff
chalks up another win. If you didn't win, don't worry, it's not over! (I mean, the fight is, but, there's going to be another one, you know?)
Sad Life
winner: D. Sharkson
Happy Life
winner: Shovel Sitting Down
Short Life
winner: Eight Legged Oedipus
Song Fight! Live 2015 8/14-8/15 Portland, OR
The annual Song Fight! Live concert and meet-up will be held this year in Portland, Oregon, on Friday, August 14th, and Saturday, August 15th. Come on out for a good time, lots of music, and a lot of fine fun folks you can meet live and in person. Don't worry, we won't bite. :)
Check the boards for details.

Sockpuppet: Refactor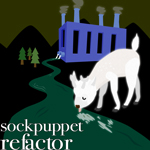 The fourth
Sockpuppet
album, Refactor, is now available for preorder, to be released on EIEBC day, June 14, 2015. Buy early and buy often!

Nur Ein X
Spring has sprung and another edition of the grueling eight-week elimination tournament Nur Ein has drawn to a close. Congratulations to this year's Nur Ein, Nick Soma! (Wait, who?!)

The Rockening
Rules have been published. See
the board
or the
official website
.

got news of interest to songfighters? playing a gig? got a new cd out?
send your song news here
.