Hot Mess
Due: Thursday, 10/08/15 9:59am pst optional challenge: What wouldn't you do?
mp3 with artist name sent to
fightmaster@songfight.org
(
tips
)
Fashion
In the "Fashion" fight,
Jerkatorium
is in, and the rest of you are out. Their style nabs them their second win in a row!
You Believed it Yourself
winner: Longfellow Street
Pieces of Eight
winner: Rilla Dope
Boundaries
winner: The East Bay Acolytes
Prayer for Pancakes
winner: Bjam The Bovine Recyclery Caravan Ray Feldspar Glenn Case The Hip Cola Hostess Mostess Jim Tyrrell Johnny Cashpoint King Arthur Luke Henley Marcus Kellis Me$$iah Starfinger
Song Fight! Live 2015 8/14-8/15 Portland, OR
The annual Song Fight! Live concert and meet-up was held in Portland, Oregon, on Friday, August 14th, and Saturday, August 15th. Congrats to host anti-m for winning the live fight! Many fighters came out for a good time, lots of music, and a lot of fun times.
Check the boards for photos, audio, and video.

Sockpuppet: Refactor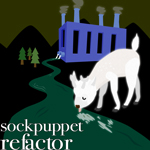 The fourth
Sockpuppet
album, Refactor, is now available for preorder, to be released on EIEBC day, June 14, 2015. Buy early and buy often!

Nur Ein X
Spring has sprung and another edition of the grueling eight-week elimination tournament Nur Ein has drawn to a close. Congratulations to this year's Nur Ein, Nick Soma! (Wait, who?!)

The Rockening
Rules have been published. See
the board
or the
official website
.

got news of interest to songfighters? playing a gig? got a new cd out?
send your song news here
.